Tel: +86-10-63203159
Fax: +86-10-63203162
E-mail: sales@shaji.cn
QQ: 1592741171


Conseco Seabuckthorn Co., Ltd. was found in 1987. It was a demonstrated enterprise invested by China National Administration Center for Seabuckthorn Development to promote seabuckthorn development. The headquarter locates in Beijing, and seabuckthorn resources and raw material processing base is in Beijing, Ordos.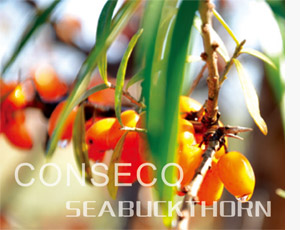 Conseco has been working on seabuckthorn cultivation, elite variety breeding, new product developing and marketing for 30 years. It is the special enterprise engaged in seabuckthorn industry with the longest history. Conseco has being undertaking several national key projects on seabuckthorn. Conseco owns a large area of seabuckthorn seedling & breeding base as well as resource base in China.
Conseco got certificates of state health registry for food exporting, ISO9001, HACCP, as well as organic certificate of EU, United States and Japan. Conseco produce more than 30 series of seabuckthorn product which have been sold all over China and other countries in the world. We have become a main suppliers of seabuckthorn raw materials with high quality.
Conseco will, as always, spread seabuckthorn and expend the cause of health industry. Developing healthy products and bring benefit to all society and mankind.